With Steamed Mugwort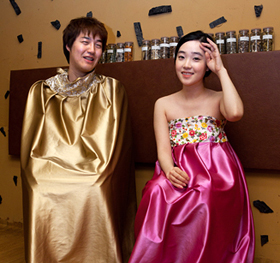 Steamed Mugwort is one of the Chinese herbal medicines that was traditionally used as a treatment in Korea for post-natal care. When the lower half of the body is heated by the fumes of the medicines burning in the loess soil or ocher pot, the vapors focus on the mucous membranes of the anus and the uterus.
Sensitivity to cold or poor circulation is considered a source of numerous sicknesses in traditional medicine (Korean Medicine). Traditional medicines are recommended to enhance the natural healing power of the body.
And what about Loess soil?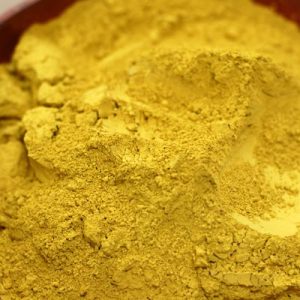 As a widely known feature of loess soil is its ability to emit far infrared rays.
The far infrared rays can improve blood circulation, accelerate metabolism, and restrain aging of the skin. Also, far infrared rays activate the cells of the body, and rid it of harmful substances.
Loess soil also contains some microorganisms that are beneficial to the body. Catalase is beneficial to delaying skin aging, diphenol oxidase has an effect that suppresses the active oxygen to prevent oxidation that leads to aging. Also, protease accelerates metabolism of the skin, and raises the body temperature and works to release the toxic substances and waste from the body.
Types of Sitz Baths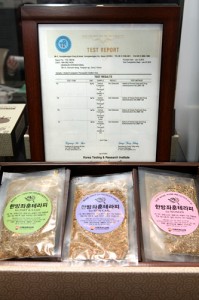 Since traditional sitz baths are used as a means of postnatal care or for the treatment of gynecological sicknesses, Chinese medicinal herbs that primarily treat these ailments are used. Presently and in other cases, for beauty and diet amongst many reasons, medicines are changed according to the goal of the sitz baths.
Huangjin traditional medicines are recognized by the "Eastern Medicine Superb Book" and the Medicinal Herbs and Facilties among other bodies. Medicines that aim at the decomposition and discharge of waste, and a surpassingly sterilizing effect, combined with Chinese medicine expertise and years of clinical research and testing.
It has undergone tests by the KTR and approved by the food and as it has special Chinese herbal medicines, it has received the seal of approval from the food and safety board.
[btn link="https://vsteam.vip/7colors/" color="orange" size="size-l"]And what are the 7 advantages of using Steamed Mugwort?[/btn]